Deliveries and returns - Esprit Nordique webshop
Delivery Fees of your parcel :
Shipping costs include packing, handling and postage.
We recommend that you gather your purchases in a single order. We cannot group two separate orders, and you must pay the transport charges for each of them.
STANDARD SERVICE

:

shipping costs are reduced to €5 incl. VAT , for all orders inside FRANCE, Corsican, Monaco and Andorra (mondial relay partner) - Delivery in any partner stores, shops of your choice. Shipping costs 5 € incl. VAT for all orders delivered in our partner stores in Belgium and Luxembourg. Delivery time 3 to 8 days.
Delivery in store partners is free for all orders above €80 incl VAT (inside FRANCE) - For other countries, see table below - except for TALLA clogs for which special delivery  direct from Finland is €35 , whatever the amount of your order.

FAST SERVICE

: with So Colissimo La Poste, shipping costs are €8 i

nside  France , Corsica, Monaco and Andorra.

Delivery time 48 H.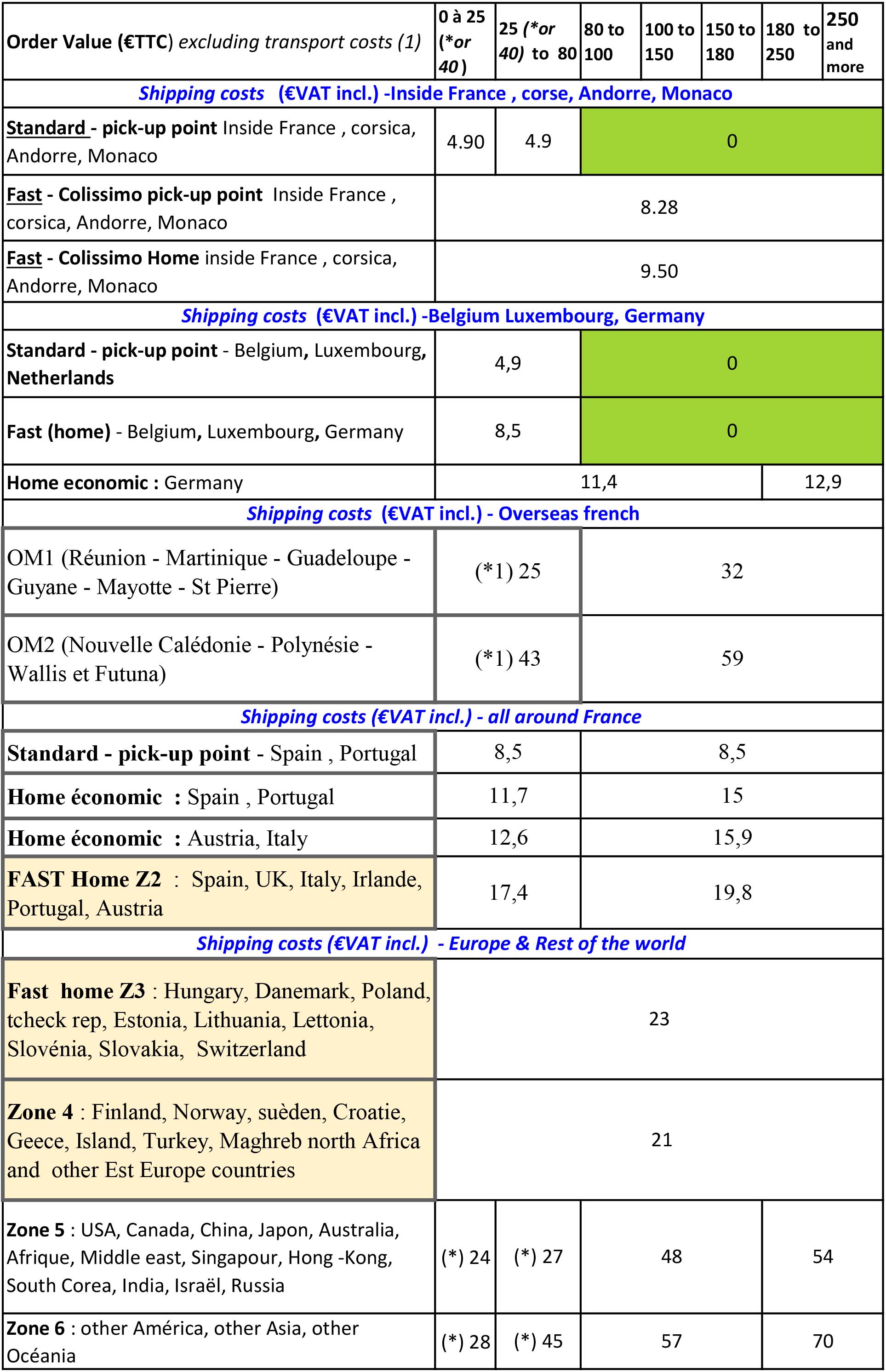 Follow-up of deliveries:

You can follow the progress of your delivery on

  www.Colissimo.fror www.mondialrelay.fr

Your parcel delivery times:
Packages are shipped within 24 hours (working days) after receipt and final encashment of your payment (for cheques, transfers delays are longer).
Delivery times depend on the aera of delivery.
Inside France and Corsica, postal delivery times are 2 days and  3 to 6 days within partner stores.

For other countries of Europe, the time postal routing are 5 to 8 days. (Switzerland, add customs clearance delays).
Other part of the world : 8 to 10 days (can vary because of customs clearance delays)
Means of delivery of your parcel and tracking:
Whatever the place of delivery chosen, we will provide you as soon as possible a link that will allow you to track the delivery of your parcel online.
In any case, you must take an appointment with your local post office/ delivery company if you are not at home for the first delivery. Your parcel will be sent back to us automatically 15 days after the first delivery.

We will not refund any delivery cost and the delivery back costs will be charged on you.
Inside  France , Corsica, Andorra and Belgium, with SO COLISSIMO you several possibilities ofdelivery to receive your parcel .
1 - Delivery to your home or to the address of your choice

2 - Delivery to a merchant partner

3 - Delivery in the post office of your choice

In other countries, with COLISSIMO French mail to the address of your choice.
Contact us If your country does not appear in the proposed destinations.

 Return of the orders /purchases :

You can return your order to :
ESPRIT NORDIQUE
26 rue des Flandres

60410 VILLENEUVE sur VERBERIE

FRANCE
Returns cost of transport are payed by customers and are on customer's responsability .Customer has the choice of  the transport company or postmail. We will not accept any duty costs to receive the parcel back, so please check this point with your transport company and inform them carefully that your proceed to a return of purchase.
Products must be in their original packaging, not damaged, and must not show any sign of waring/ using.
No transport costs are refund for deliveries outside FRANCE.
Return delivery will be on your own charge.
No duty costs to pay for returned packages will be accepted.
Shipping costs of initial delivery will stay on your own charge too.